Re-Home My Pet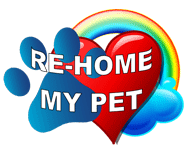 RE-HOME MY PET, LLC was established in 2013 cooperatively with the help of Today's Pet, Inc. We are a non-profit center for most companion pets. We specialize in cats & kittens, small animals including exotics, birds, reptiles and non-indigenous species of fish. We are able to except most pets from places of abandonment, other shelters, or persons relinquishing their pets for re-homing. We have limited space for small dogs and puppies available and currently are not able to take in large dogs but we may be able to find a foster home for them until a suitable home can be found. If we are not able to immediately help in the re-homing of your dog or cat please call Small Miracles Dog & Cat Rescue for additional placement options.
Whenever possible we will try to offer a safe house for these animals regardless of age, temperament, or non-treating health status. These pets will receive care and socialization in the hopes that each one will be placed in a forever home as quickly as possible. Some animals may be given to foster parents, or school teachers until a permanent home can be provided. Our funding comes from the generosity of our supporters, donations, and our volunteers. We are always in need of used cages, towels, toys and any monetary donation to help offset our health care, feeding and sanitary requirements. Please visit us for more information.
Select here to see some of the pets we have available for Re-Homing at this time, please.
DONATIONS
RE-HOME MY PET, LLC is a private non-profit charity supported by donations and adoption fees. Your donation may be tax deductable. Currently donations may be made in store at Today's Pet, Inc.
RE-HOME
RE-HOME MY PET will accept most small animals, reptiles, birds, and fish for re-homing. Please call Today's Pet at 443-878-1920 to speak to a re-homing representative to make arrangements for your pet to be re-homed. We accept re-homing's Monday through Friday only. All re-homing's are accepted provided space is available. Check here for a Re-Homing application.
VOLUNTEER
Join or growing team of volunteers. RE-HOME MY PET needs volunteers experienced with small animals, reptiles, birds and fish to help socialize neglected pets, help with the cleaning and feeding or become a foster parent for pet waiting for space at Today's Pet. If interested please come in to visit a re-homing representative.
About us
Today's Pet has been family owned and operated since 1996 with a single location serving Elkridge, Columbia and the surrounding areas from Annapolis to Westminster and have more than 30 years experience in the pet industry. We have served as board members with MAPI (The Maryland Association of Pet Industries) for more than 25 years. Here at Today's Pet our main priority is to solidify the companion process by pairing up the right pet for each family situation.