About Us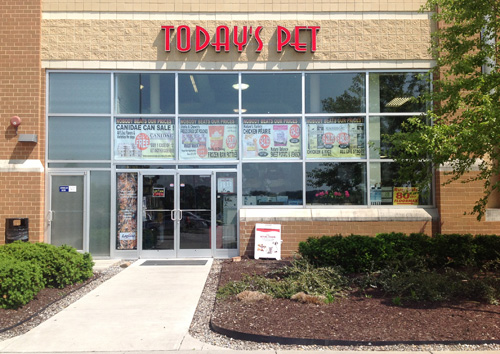 We all love our pets. Over 62% of Americans own one, two, or even more pets and most everyone has daily contact with people who own pets. That's over 164 million in the USA alone. They may be dogs, cats, birds, rabbits, guinea pigs, chinchillas, ferrets, hamsters, rats mice, fish, snakes, lizards, even a tarantula, hedgehog or sugar glider, just to name a few. You don't have to look far to find another equally passionate pet owner. Lets face it, most everyone around you is somehow involved with pets. We grew up with them, we learn from them, we love with them. They are calming, nurturing, educational, and most of all they provide both psychological and medical benefits. Here at Today's Pet we are passionate about pets and pet care. When visiting with us we will surround you with not just happy, healthy, well adjusted pets but one of the largest "always in stock" selections of over 40 premium brands of dog and cat foods, and isles packed full of exciting treats, toys and health aids for all your pets.

Today's Pet has been family owned and operated since 1996 with a single location serving Elkridge, Columbia and the surrounding areas from Annapolis to Westminster and have more than 30 years experience in the pet industry. We have served as board members with MAPI (The Maryland Association of Pet Industries) for more than 25 years. Here at Today's Pet our main priority is to solidify the companion process by pairing up the right pet for each family situation. We have maintained an A+ rating with the Better Business Bureau for our entire time in business and use our experience and knowledge to provide you with the same great service that we have become associated with. See some of our recent testimonials.
Today's Pet recently partnered with Re-Home My Pet, LLC., a Maryland non-profit organization as a sole adoption and re-homing center for dogs, cats, small animals, reptiles, and fish. Re-Home My Pet is currently one of only a select few Maryland organizations that are able to accept for re-homing most pets that have been discarded, abused and are no longer being properly cared for. Today's' Pet has previously and continues to work with other agencies including Small Miracles Dog & Cat Rescue and Columbia Dog & Cat Rescue as well as working with numerous other rescue groups by proving food, treats, health supplements and toys on an ongoing basis.
We welcome you to come in and visit us and meet some of our staff. Not looking for a pet today? No problem, we welcome you to come in and socialize with many of our pets, and shop through our exciting selection of constantly changing pet foods, supplements, toys and accessories, or just come in and get your "puppy fix" for the day.