JEN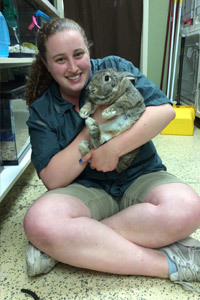 Hi, I'm Jen and I've worked at Today's Pet for about four years. I work in pet care where I clean up after the animals, prepare their meals, wash and groom them (when necessary) and so on. But the best part of my job is just getting to spend time with all the adorable animals we have in our store.
I've always been an animal person. Since the day I was born I've been surrounded by animals, so I learned early on how to properly care for all kinds of pets. I have had many pets in my life: dogs, bunnies, guinea pigs, hamsters, fish and a bird. My dad was a manager for a number of pet stores, so I spent many of my early years in his stores. Many times I was called upon to help the employees catch loose hamsters and standing at the entrance with little bucket of treats greeting customers and their dogs.
There is one last thing I should mention, and all of the other Today's Pet employees can attest to this, I love bunnies! I may have had a lot of different pets in the past but bunnies have always been my favorite pet. This is why a lot of my co-workers affectionately named me "Bunny Girl". We currently have seven rabbits in our house and four of them are mine. There's Sandy, Romeo, Gandalf, Mufasa, the little diva Muffin and the trouble making twins Luna and Brigid. So yes, I'd say Bunny Girl is pretty accurate.